XX National Congress of the Italian Society of Ecology, Rome, 27-30 September 2010.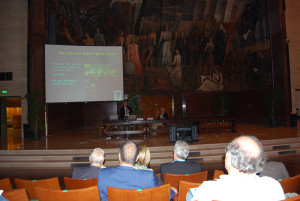 From 27 to 30 September 2010 at  Sapienza University in Rome, during the XX National Congress of the Italian Society of Ecology,  met more than 400 representatives of the associations:
 S.B.I. – Italian Botanical Society
U.Z.I. – Italian Zoological Union
S.I.B.M.- Italian Society of Marine Biology
S.I.S.V. – Italian Society of Plant Science
I.S.D.E. – International Society of Doctors  for the Environment.
4 days of hard work of the Congress were divided into Plenary Sessions, where invited  distinguished  professionals  presented  their  relations:
Stuart Pimm  from Duke University, USA, "How much biodiversity will global change destroy?";
Rob H.G.Jongman, Alterra, Holland, "Biodiversity and Global Change: GEO Bon and EBONE";
Alan G.Hildrew, Queen Many University of London, UK,  "Environment change: staring at Broadstone Stream for 40 years";
Robert Costanza,University of Vermont, USA, "Understanding, Modelling  and Valuing Ecosystem services";
Nick Hewitt,Lancaster University, UK, "Trees and urban air quality";
Vincenzo Naso, Sapienza University of Rome, Italy, "Energy Sustainability: Closed cycles of resources and their application to energy systems".
The parallel sessions were divided as follows:
Marine, Freshwater, Terrestrial ecosystem processes and biodiversity.
In this section I have presented, together with Professor Mario Cotta Ramusino from the University of Milan, the report on freshwater bryozoans of Belarus "Fauna of freshwater bryozoans in Belarus and Plumatella fungosa ecology in the cooling basin of the Beloozersk hydroelectric power station, Belarus":
Fauna_dei_Briozoi_Abstract_XXSITE_Roma
Presentazione XXSITEROMA2010.3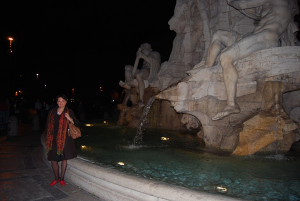 Tatiana Mikhaevitch, Ph.D.
Read all the text of the article: 004_XX National Congress of SITE_ENG
31.10.2010